Some of you might have missed my previous rant party pertaining laboratory animals. You're in luck, because I'm not going to moan and bi*ch about the hypocrisy. Instead, I'll try to convince my readers that what we do in the lab is actually useful-if not to save life on Earth, but perhaps to understand principal mechanisms in animal physiology.
Today was very interesting. We used toad's nerves to see how they act. A contraption used for this experiment is called a "nervebox". I gave up my search after about 10 minutes. Google finds nothing. I'll have to leave you with a crude description.
Main components of nervebox are horizontally placed rostfrei, or in our case, Ag/AgCl electrodes arranged in orderly fashion with fixed distance in between. They serve as a "bed" where the nerve lies longitudinally. By hooking amplifier or stimulator to different electrodes, you can regulate the distance between stimulation/reading (with amplifier). This serves us well when when measuring AP (action potential) speed along the nerve fiber (more about this later).
Ok, to the juicy part.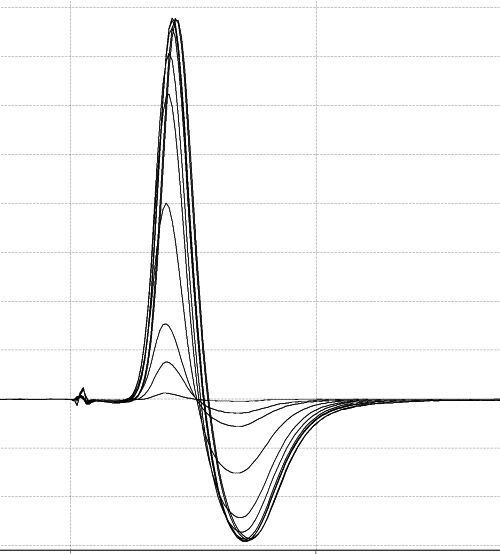 Here's a graph we made with a program called Scope. If you stimulate the nerve at any decent frequency, you get a nice sample that you can overlay with previous measurements, leaving you with some nice curves (picture). In this exercize, we experimented how many volts excites a fiber to generate AP. It turns out that in our case, we used about 0,18 V (small curve barely visable). With increasing voltage, we got a graded response up to about 3-4 V, showing that fiber don't respond in "all or none" manner. Threshold needed to start depolarization and subsequent formation of AP is about 0,18 V. Too bad I can't go into details how we think cells integrate, sum and pass information on. Perhaps at a later date.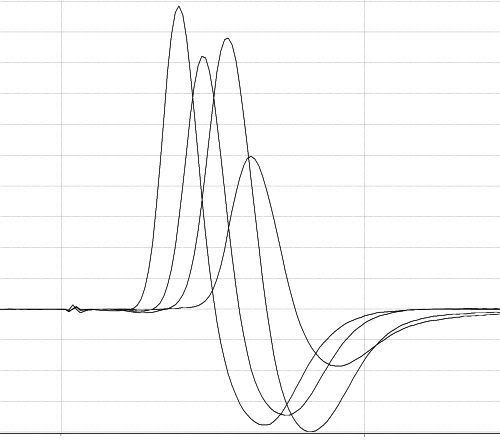 In this next experiment, we measured speed of AP along the fiber. By placing electrodes in different positions (lenght) and substracting s2 - s1 and t2 - t1 between two APs, you get speed (v = s/t). Our results are about 33 m/s, probably a bit high due to reading/sampling errors. AP speeds in frog nerve fibers (at room temp) are about 25 m/s, which is about 90 km/h. The bigger the fiber diameter, faster they conduct APs (remember giant squid axons?).