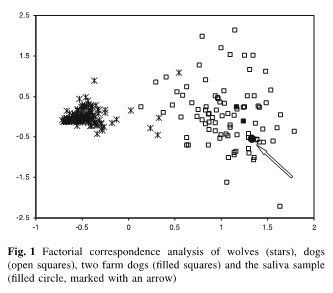 In Slovenia, as well as many other European countries, have wolf (Canis lupus) populations that are more or less on the verge of extinction, due to shrinking available habitat and hunting. They are trying to sell us on "a fact" Slovenia is too small for a few dozen wolves, but can muster up tens of thousands (edit: 150.000) of domestic dogs (Canis familiaris). Especially in rural areas, you have farmers, who get their livestock butchered by "wolves" or lynx. Since dog and a wolf look pretty much alike, especially by their markings (paw prints), it's hard to identify the attacker (although wolves are much more skilled hunters and killers than domestic dogs, often making the distinction possible. Wolves kill with precision while dogs basically tear the animal apart, dying in awful agony). And most of the time, the attack is pinned on the wolf, at worst because farmer gets compensated for the sheep and the offspring (I hear even if the sheep is not pregnant, but this info may not be accurate) if damage was done by wild animals.
Swedish team (Sundqvist et al, 2008) took a step further and tested a method of identifying the attacker by the saliva left behind on the wounds. What they did is they amplified the DNA present in the saliva on the wounds and compared certain fragments of it against home two dogs and Swedish wolves and dogs. They found that the saliva sample is probably not from wolves or two herding home dogs but a third individual.
If you look at the Figure on the left, you can see that samples from multiple sites of DNA from wolves (marked as X) were more similar to each other (also, notice the less diversity of the examined loci of DNA compared to squares (dogs)) than to dogs, marked as open squares. Having a background, you can run your sample against this data and you can see that the sample (black dot, marked with arrow) was more similar to the dogs than wolves. If they had more sites from the DNA, the distinction would be even sharper (you can see some X samples were grouped with dogs), yielding the results even more reliable.
Hopefully we will see more such studies done in the future on Slovenian farms, where in this writer's opinion, wolves take more flak than they deserve.
Sundqvist, A-K., Ellegren, H., Vilà C. 2008. Wolf or dog? Genetic identification of predators from saliva collected around bite wounds on prey. Conservation Genetics. 9 (5): 1275-1279. DOI: 10.1007/s10592-007-9454-4. (link)