Pred nekaj dnevi me je pri rednem obisku največjega Mercator centra v Dravljah (Ljubljana) pozdravila čisto gantz nova razstavi super foto-montaž fotografij. Ne vem točno kaj je cilj razstave, ampak če sem malo demogoški in se pošalim, je zgolj zato, ker EU daje sredstva za promoviranje globalnega segrevanja.
Kot mlajši znanstvenik pa od mene morala zahteva, da sem do vsega skrajno skeptičen, kot zavesten državljan in prebivalec planeta Zemlje pa to še posebej velja, ko zadevo v roke vzamejo politiki in na njo praktično onanirajo. Za vse, ki o znanosti ne razmišljajo vsak dan naj le povem, da znanost ni rigidna struktura in debata glede nekatere stvari nikoli ni "končana", kot radi razglašajo nekateri.
Da se vrnem nazaj na stvar. Ko sem prvič šel mimo razstave sem bil zelo impresioniran nad dobrimi fotomontažami. O zadevi si nisem mislil nič in odšel naprej po nakupih. Na poti nazaj pa sem se le priklonil in pričel brati tekst na panojih in pod slikami. Kot biolog najprej nisem vedel ali naj se smejim, jokam ali pa letim po defibrilator, ki je stacioniran na stebru na drugi strani Mercatorja. Sicer se vseh izjav v tem postu ne bom dotaknil, se bom pa osredotočil na eno izjavo, ki pravi, da Zemlja ni bila tako vroča zadnjih 50 milijonov let (to je 50.000.000 let). To je ravno malo po tem, ko je izumrla večina dinozavrov (ostali so samo ptiči, ki so zelo sorodni skupini dinozavrov, v katero spada tudi famozni Tyrannosaurus rex). No, pa poglejmo, če obstaja možnost, da je to resnica posebne vrste (laž)!
Odsurfal sem na spletno stran NOAA (to je ameriški "statistični urad" za satelitske in druge podatke), ki shranjuje temperaturne (in druge podatke) iz preteklosti. Konkretno gre za dataset (tako pravimo podatkom) z Greenlandije, ki prikazuje relativno temperaturo (relativno na današnje razmere) za zadnjih 50.000 let (to je 0.05 milijonov let). Podatke sem uvozil v program R (verzija 2.10.1, linux verzija) in izrisal graf. Če bi kdo rad preveril kodo (da nisem morda kaj goljufal), naj me kontaktira.
Poglejmo, kaj se je na Greenlandiji dogajalo zadnjih 400 let. Opazimo, da se je v zadnjem stoletju in pol temperatura dejansko povzpela nad "povprečje". In to kar skokovito!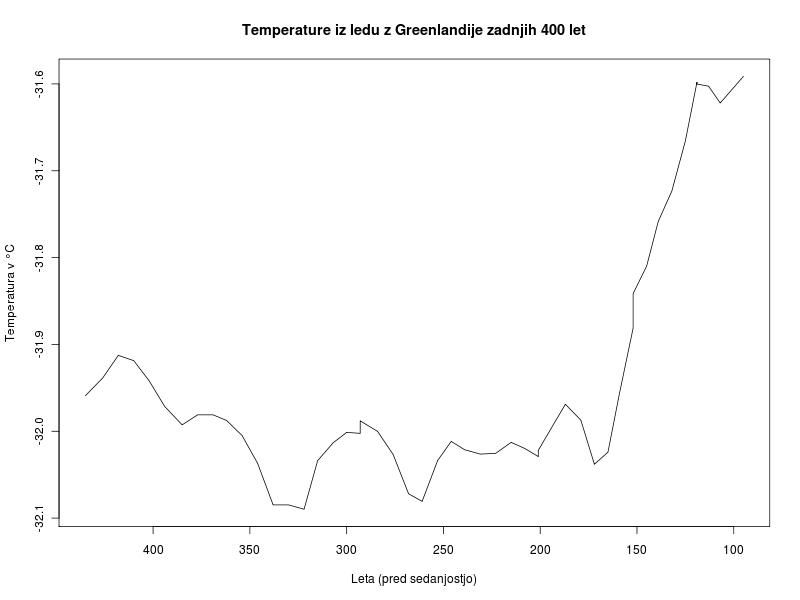 Pa poglejmo še malo bolj v preteklost. Recimo 800 let. Vidimo, da gre temperatura gor in dol in GOOOR in DOOOL. Opazimo, da obstaja verjetnost, da je bila Zemlja kdaj tudi že toplejša.

Ker temperatura tako niha in s trendi zadnjih nekaj 100 let nismo zadovoljni, poglejmo kaj se dogaja zadnjih 50.000 let. Opazimo, da je temperatura v zadnjih 10.000 letih nekako poskočila, kar sovpada s koncem zadnje ledene dobe. Pred tem je bila temperatura nižja (kot bi lahko sklepali iz imena ledena doba) od današnje in kar lepo nihala (temu strokovno rečemo "oscilirala", zato da nas povprečen človek ne razume).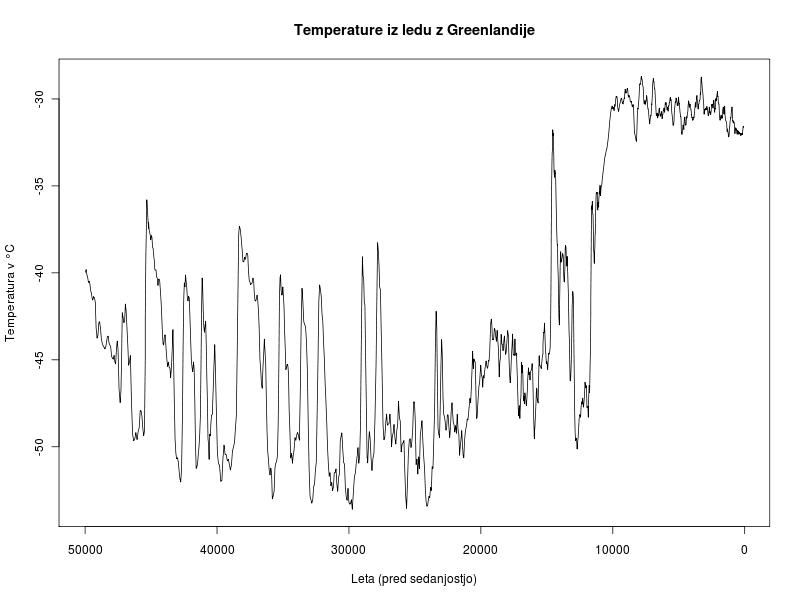 Vprašati se moramo, ali gre to za nekaj unikatnega (neponovljivega), ali pa gre morda za celo cikličen pojav?
Pa pojdimo ponovno na spletno stran NOAA-e in si poglejmo temperaturne podatke (zdaj že znamo reči "dataset") iz Vostoka (Antarktika, torej na drugi strani Zemlje) za zadnjih 400.000 let (0.4 milijona let, kar niti približno ni 50 milijonov let). Za vaš vizualni užitek sem pobarval zadnjih 50.000 let rdeče, da si lahko predstavljate za koliko let nazaj smo si pogledali podatke z Greenlandije. Podatkov za zadnjih dveh stoletih se s tega grafa praktično ne vidi. Ali mi lahko nekdo objasni zakaj je današnji trend segrevanja ali ohlajanja tako poseben, da moramo zapravljati davkoplačevalski denar za to propagando (v najslabšem pomenu te besede)?